What-Nots Antiques & Collectibles Emporium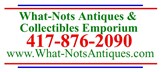 Not a museum! Definitely a for profit store! Great deals on everything in store! Fine music, great conversation, friendly is always free. Great antiques and collectibles, with a lean toward the unique and unusual. Come visit and stay awhile! Closed every Tuesday.
Photo Gallery
Click on a photo below to enlarge and begin slideshow.
Large slideshows may take a minute to load.